Director's Message
Dear Colleagues,
Please join me at the VCs Commencement Address today to welcome our undergraduate students on the lawns of University Ave, 11:00-12:30. Refreshments will follow at Kambri.
My thanks go to David Anderson, head of the Electronics Unit, for serving as our Deputy Fire Warden for many years. Lee Philip will replace David. Please refresh yourselves with the location of the emergency assembly points closest to you, as well as the procedure for evacuation.
PDRs are coming due again and we have a growing number of staff who are yet to start this important discussion with their supervisor. Please remember to include explicit reference to your Department 3-6-9 and the ANU Strategic Plan in your eForm. As of last year it is now mandatory that all academic staff register a commitment to education. I would also like to encourage all staff to include consideration about their contribution to diversity in their PDR, this might include attending cultural awareness and LGBTI+ training, or registering to become a mentor. Guidelines for the general PDR discussion and examples can be found on the intranet, see also at "RSPE PDR notes".
If you are travelling overseas please be aware of the restrictions on class of travel, the limits to insurance policy and the need to provide supporting evidence for the trip. For your convenience, the University policies are summarised on the School intranet - Guide to Travel.
Congratulations to Dr. Sergey Kruk (NLPC) for winning the AOS Photo Competition. His experimental photo "Topological Australia" (above) is featured on the front cover of the AOS News magazine and it represents a third-harmonic signal emitted by a curved topological waveguide designed by Daria Smirnova and fabricated by Duk Choi. The image is about half the width of a human hair (~50 microns).
Have a great week and good luck to all those about to submit their ARC grants.
Tim
Annual Meeting of the Australian and New Zealand Assoc of Mathematical Physics (ANZAMP).
This meeting was held in Merimbula during Feb 5-7, hosted by the Department of Theoretical Physics with Vladimir Mangazeev as Chair of the Local Organising Committee. with sponsorship from RSPE, MSI, College of Science and the Asia-Pacific Centre for Theoretical Physics. The meeting was a great success, with over 50 participants, including from China, Italy, France, Germany, NZ and the UK.
Changing Lives with Science at the Shine Dome
| | |
| --- | --- |
| | This is the first event in a six-part series. Throughout this series we will hear remarkable untold science stories. Join us for tales of innovation, research, breakthroughs, and how science is solving the big challenges of our time. The first lecture is on this Tues, 19th Feb. |
The Future of Nuclear Power
| | |
| --- | --- |
| | The Deputy Director General of the International Atomic Energy Agency (IAEA), Mikhal Chudakov, will be visiting and delivering a lecture presentation on the future of nuclear power at the Innovations Theatre, Wednesday 20 Feb. |
Equity and Diversity
| | |
| --- | --- |
| | An effort to bring more women into academia by mandating gender quotas in hiring committees might produce the opposite effect, as shown by the recent case study of decisions in 455 hiring committees at 3 institutions in France. |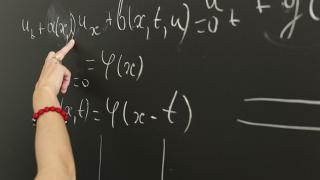 Women of Mathematics - 27 February
This event will celebrate Women of Mathematics through a range of activities, including a panel discussion, research talks, and an official opening (with cocktail reception) of the exhibit "Women of Mathematics" at ANU. Everybody is most welcome.
Award for Space Plasma, Astronomy and Astrophysics 2019
This award is intended to aid graduate research students undertaking research in Space Plasma, Astronomy or Astrophysics. The award could be used towards travel, acquiring of equipment or collaboration activities.
Cooperative Research Centres Projects (CRC-P) Grants – Funding Opportunity
Due to the tight deadline, please notify the College Research Office ASAP if you intend to apply so that we can allocate sufficient support to your proposal, noting our office's current competing deadlines due to the major grant round: science.jaeger.rm@anu.edu.au
Departmental Seminars

18 Feb
Miss Larissa Huston
High pressure phase transformation of Si and Ge: nanowires vs nanoindentation
» read more

19 Feb
Dr Avadh Saxena
Non-reciprocity and Broken Symmetry: From Photonics to Materials
» read more

21 Feb
Ms Jessica Eastman
Measurement and control of quantum chaotic systems
» read more

22 Feb
Mr Harry-Dean Kenchington Goldsmith
A photonics solution to exoplanet detection
» read more

Further details about School Seminars can be found on the RSPE Intranet and on the School News and Events Page.

Public Lecture

21 Feb
Dr Peter J Riggs
Is existence just an illusion?
» read more

Administration
Uyen Nguyen is acting Senior School Administrator 1-28 Feb 2019. Lucia Lu is covering during this period as Finance team leader.

EME
Julie Arnold will be absent from 13-20/2/19. Please send all requests to admin.rspe@anu.edu.au

NLPC
Kath Hicks will be absent from 13-25/2/19. Please send all requests to admin.rspe@anu.edu.au

GoGet - new car share arrangements

Are you a user of the ANU Greencarshare? Please see changes below which came into effect on 11 Feb.

JCOS Career Development Framework

HDR students are invited to participate in the JCOS Career Development Framework – this is an opportunity for HDR students to develop and get recognition for transferable skills, discipline-specific training, industry connections and experiences to be managed.

Carers' Career Development Assistance Fund

Applications are now invited for the first 2019 round of grants under the Carers' Career Development Assistance Fund (CCDAF). Applications will be open for 6 weeks and will close on Friday 22 March 2019 at 5pm.

RSPE Orientation

Every Monday at 10:00am all new starters are invited to meet at reception to have a short tour of the School's central areas and receive a welcome pack.

Bookings are not required.