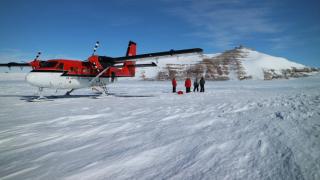 Acting Director's Message
Dear Colleagues,
The School this week celebrated the 30th anniversary of the founding of the Department of Electronic Materials Engineering with a dinner to look back on three decades of remarkable achievement. Many former members of the Department returned to celebrate this landmark occasion, culminating in a speech by the founding Head of Department and former School Director Jim Williams in which he was able to relate the career paths of almost every one of the 35 PhD students! EME continues to move from strength to strength, and the feeling of community achievement was demonstrated by the large family turnout on the evening.
Congratulations to Wenjie Yang, a PhD student based with EME, who was awarded a Gold Graduate Student Award at the 2018 Fall MRS meeting.

See more

.
And congratulations to the LIGO, VIRGO and OzGrav team members in RSPE who reported on the new gravitational wave discoveries of merging black holes, which captured the imagination of science followers around the world. For more details see below.
This week's photo is of Director Tim Senden's aircraft landing on the Antarctic ice.
Have great week
Ken
Gravitational waves: biggest black hole merger ever detected revealed
| | |
| --- | --- |
| | CGP physicists in RSPE have celebrated the announcement by LIGO & Virgo & OzGrav (ARC Centre of Excellence) of the discovery of four new binary black hole collisions including the biggest, fastest spinning and furthest merger ever recorded. |
End-of-Year University Close-Down Period
The Vice-Chancellor has confirmed that the University will be closed from close of business Monday 24 December 2018 until Tuesday 1 January 2019, reopening on Wednesday 2 January 2019.
Academic insights from Dr AJ Mitchell's recent trip to Myanmar
| | |
| --- | --- |
| | Dr AJ Mitchell from Nuclear Physics received funding from the School to join a team of ANU academics on a cross-college capacity-building visit to the city of Yangon in southern Myanamar. |
Jaeger Hub Staffing Arrangements
Please see details below regarding the Jaeger Hub staffing arangements over the festive period.
HR Team Notifications
The Jaeger HR team will be holding excess leave conversations in the Oliphant Room (the fishbowl meeting room opposite the RSPE reception desk) from 9 am to 12 noon, Tuesday, 11 December 2018. To schedule an appointment email: hr.science@anu.edu.au
Did you know that you can assign your approval delegation whilst you are on leave to a person who can action on your behalf. Navigation: HORUS> nav bar > Main menu > Self Service > Manage Delegation
If you require any further assistance, contact HR team on: hr.science@anu.edu.au
Finance Team Notifications
With Christmas holidays fast approaching please note the following 2018 cut-off dates for regular financial processing. See more.
Note that it is mandatory to purchase stationery, office supplies and furniture from WINC. See more.
2019 ARC Acquittal Statement period. RSPE's College Finance team asks that all CIs and Administrators please, liaise and respond to all queries and requests from the Finance team members during this very critical ARC Statement period.
Equity and Diversity
"All Talk" - The 2018 Women in the STEM Professions Survey Report provides valuable insight into factors affecting women's participation, progression and pay in the STEM workforce, and concludes with a set of 30 recommendations to help assist with closing the gap.

A new website dedicated to Equity and Diversity has been created on the RSPE intranet. Link.
Director's Office
Tim Senden will be away on field work during the summer. The acting Director will be as follows:

30 Nov – 18 Jan : Ken Baldwin
21 - 25 Jan : Cedric Simenel
28 Jan - 1 Feb : Lan Fu

Departmental seminars

Dr Marcin Syperek - 10 December
Quantum well-quantum dot tunnel injection laser and a single photon source based on self-assembled semiconductor InAs/InP quantum dots
» read more

Mr Muidh Alheshibri - 12 December
Final PHD presentation - Nanobubbles in Bulk
» read more

Quantum Many-Body Approaches in Chemistry and Physics - 17 December
Frontiers on Quantum Matter Workshop
» read more

BBQ Safety

As per ANU WHS requirements all persons using a BBQ on campus must be trained in the Universities BBQ Safety Procedure.

RSPE Orientation

Every Monday at 10:00am all new starters are invited to meet at reception to have a short tour of the School's central areas and receive a welcome pack.

Bookings are not required.

DQS HOD Leave Arrangements

DQS HOD John Close is away from 9 Dec until 10 January 2019. Acting HOD will be:

10 Dec - 1 January: Nick Robbins

2 - 10 January: Joe Hope