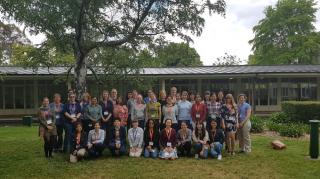 Director's Message
Dear Colleagues,
Loads of great news this week. The Level E promotions were announced this week and it is my pleasure to say all of our applicants were successful. Our congratulations go to Professors Jodie Bradby, Adrian Sheppard and Andrew Truscott.
The 2017 global list of the most highly cited researchers has been announced (https://clarivate.com/hcr/) and our Professor Yuri Kivshar remains the only Australia physicist on the list. Another outstanding achievement for Yuri and his group.
This week's pic shows the participants in the inaugural Mentoring and Guidance in Careers (MAGIC) workshop which ran at ANU last week (see below). The program was led by Nanda Dasgupta (Nuclear Physics); Nalini Joshi (The University of Sydney); Merryn McKinnon (Centre for the Public Awareness of Science, ANU). By all accounts it was a fantastic program exploring the many facets of forging careers in different sectors with contributions from community leaders from around Australia and our School.
I'd like to thank Julie Arnold for looking after the EA role so brilliantly well in Sue's absence.
Have a great weekend,
Tim
MAGIC 2017
| | |
| --- | --- |
| | How does one build a career from a PhD in mathematics or physics in academic, government or industry settings? |
| | |
| --- | --- |
| | Research Services Division and the Library (with executive sponsorship from DVCRI Prof Margaret Harding) are encouraging all academics to obtain an ORCID identifier. |
ARC Debrief and Peer-Review Program for ANU physics
Seeking Expressions of Interest for new Teaching Staff in Foundations of Physics (PHYS1001), 2018.
We are looking for new casual teaching staff for Foundations of Physics (PHYS1001) in 2018, semester 1.
ANU Gender Institute 2017 Grant Round 2 OPEN
| | |
| --- | --- |
| | Applications are now open for to ANU staff and students to apply for support for events and initiatives that are accessible to and benefit the wider ANU community. |
Register for AFRAN Forum 2017 - Canberra
| | |
| --- | --- |
| | The AFRAN association will hold its annual forum in Canberra on the 7-8 December 2017. |
Media Training
| | |
| --- | --- |
| | Reminder: Our next free media training session will be held 9am-12.30pm Thursday 30 November |
Important Funding Opportunities, Info and Events
| | |
| --- | --- |
| | Below is an update of information that relates to ARC and MEC schemes. |
Link Building Tea Room Costs
Could all users of the Link Building Tea Room please ensure that they pay for all items they consume. Prices for coffee, tea and biscuits are clearly displayed. If you wish to use any full milk bottles for your local area please ensure that these are paid for.

This service works on an honour-system so please keep track of your contributions. Thank you
School Seminar Program - 30 November
Harvesting Solar Energy into Storable Fuels: Photoelectrochemical Hydrogen Generation - Dr Siva Karuturi
Departmental seminars

Dr Toshihiko Oka - 24 November
Small Angle X-ray Crystallography on Inverse Bicontinuous Cubic phases of Lyotrpic Liquid Crystals
» read more

Dr James Wood - 28 November
Nanoscale Scanning Magnetometry using Nitrogen Vacancy Centres in Diamond
» read more

Professor Derek Leinweber - 30 November
The Structure of Low-Lying Baryon Resonances from Lattice QCD
» read more

Mr Shuai (Jack) Li - 1 December
Threshold Switching and Self-Oscillation in Niobium Oxide
» read more

Dr Barry Green - 6 December
RSPE & ECI present: The Status of ITER – the fusion reactor development project
» read more

Nuclear Physics - Professor Andrew Stutchbery will be be at the REX-ISOLDE radioactive beam facility at CERN, Geneva, from November 12-30 to perform an experiment. He will be joined by Ben Coombes from November 20-30. Dr Toni Wallner will be Acting HOD from Nov 21 – 29.

TP - Prof Makunda Das will be absent from 17 Nov to 25 Dec visiting various institutes in India and will give an invited talk at the International Workshop on Advanced Materials at NIST Berhampur.

CPF - A/Prof. Matthew Hole is away from 25 Nov - 1 December attending celebration events of the 10th anniversary of ITER, both in Chengdu (Southwestern Institute of Physics) and Beijing (ITER China, The Fusion Energy Prospect Forum). These events will detail China's roadmap for the development of fusion energy.

Making sense of the culture war over transgender identity

As more people change gender, they are sparking a debate that enrages some and confuses many.

Joint Colleges of Science, End of year celebration (the Christmas Party)

Hold this date in your diary

Monday 11th December 2017

3:00-5:00pm

Lawns outside Science Central – Peter Baume Building #42

New ANU Family Friendly email group

The ANU Family Friendly committee is a new group of people across campus that are joining together to improve the ANU campus for all ANU parents