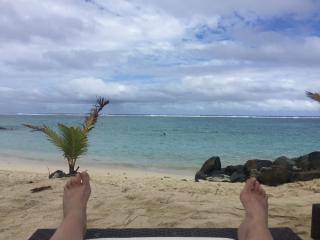 Director's Message
Dear Colleagues,
It's been a great week, one where we can all breathe a sigh of relief as a number of largescale activities wrap up. Firstly, my heartfelt thanks to all those educators who have finalised teaching for this semester. Teaching is a tremendously important part of our School culture and it's wonderful to see such a huge School-wide contribution. Also, best of luck to those many people have been busily preparing to present their latest research at international conferences. And, a big thank you to all those who contributed to the Preliminary Sketch Phase of the building project. This stage is now complete and we're entering the Final Sketch Plan stage. It's at this point we will detail the specifics of our future working environment. Over the next few months we will all start to determine all the little details that will make our precinct an outstanding research environment into the future.
This inviting photo comes to us from Rarotonga. Kathy Hicks and Julie Arnold recently escaped Canberra for a well earnt holiday in the Cook Islands. Taken from outside their beach front hotel, I will leave it you to work out the owner of those very relaxed feet.
Safe travels for those heading off on school holidays, or overseas for northern conferences.
Best regards,
Tim
RSPE and the ANU Global Challenges Scheme
Thank-you to those who attended the meeting last Friday on how Physics may get involved with the ANU Global Challenges Scheme. Of course, this is just the start of a process which has yet to be fully defined by the ANU, but it was terrific to hear so many ideas from the floor. Physics certainly has plenty to offer in terms of ideas, facilities, and expertise. For those not able to attend that meeting, a copy of the presentation given by Dragomir Neshev, on what we know about the scheme so far is available here.
At the meeting it was agreed that a small group consisting of Dragomir Neshev, Matthew Sellars, Jodie Bradby and Ken Baldwin will work together with the Director to act as a point of focus for the school on this topic.

More information to follow as it becomes available.
RSPE Concur support
RSPE will be running sessions in early July to support purchase card holders to submit their first reports. Purchase card holders can bring their laptops, mobile devices and receipts to these sessions and receive support from RSPE staff.

The current sessions will be held:

Wednesday 5 July 10:30-12:30 (RSPE Conference Room, Oliphant Link)
Friday 7 July 10:00-11:30am (Physics North)
Monday 10 July 10:00-12:00 (RSPE Seminar Room, Oliphant Link)

These sessions will have a central ANU concur person in attendance along with local RSPE administrators.
ORCID
ANU encourages all researchers, including PhD students, academic staff and research-active professional staff, to register for an ORCID identifier and share your iD with us to assist in your research career.
This is a way to ensure that research information is attributed to the correct person and will eventually help with things like HERDC returns. Many publishers are also putting ORCID numbers into authorship lists of papers, so registering is really a no-brainer.
Training sessions
Training is available from the ANU Library including tailored presentations and general sessions.
Westpac Future Leaders Scholarship
Please encourage your best students to apply for a Westpac Future Leaders Scholarship at ANU
Applications are now open for the Westpac Future Leaders Scholarship. Colleges, schools, centres and supervisors play a key role in cultivating talent at ANU and I urge you to seek out your exceptional students who have the potential to make a difference to Australia's future and encourage them to apply.
Campus-wide news conference and media training invite
The SCAPA team will hold a free media skills workshop for ANU academics and senior postgraduate (research) students on Thursday 29 June, 9am – 12.30pm. We'd appreciate it if you could pass this on to anyone interested, and share the invitation with your networks.
Figtree Training
Supervisors - HRFIG4 – Figtree Training for ANU Supervisors
The University's new workplace safety incident and hazard reporting tool, Figtree, will go live on 1 July 2017.
Emerge - STEM careers expo Event
A three-hour afternoon career exhibition with live demonstrations and presentations from the community of resident start-ups including AgTech demos, VR technology and MakerSpace to engage students from schools and universities, graduates, PhDs, post- grads and the general community.
Venue: The Atrium, Cicada Innovations, 4 Cornwallis St, Australian Technology Park
ANU School Holiday Program
| | |
| --- | --- |
| | The ANU is continuing its association with Communities@work, who will run the July 2017 ANU School Holiday Program ... |
Upcoming innovation skills development
| | |
| --- | --- |
| | There are a range of skills development opportunities in and around ANU for those looking to develop their skills around innovation, commercialisation or entrepreneurship. |
Research Skills and Training Opportunities for Students
| | |
| --- | --- |
| | Upcoming pograms from the Research Skills and Training Centre |
Staff Movements

Director's Office
Mrs Andrea Butler will be covering the EA role until the role is filled.

Electronics Materials Enginering (EME)
Prof Hoe Tan is away 17 June to 4 July. A/Prof Lan Fu will be Acting HOD in this time.

Nuclear Physics (NP)
Prof Andrew Stuchbery will be overseas 4 - 25 June 2017. Prof David Hinde will be Acting HoD in this time. Petra Rickman will be away from 19 - 30 June. Please contact Julie Arnold for NP adminsitration support eme.rspe@anu.edu.au

RSPE School Forum 27 June 2017

RSPE Health & Safety upcoming courses

28 June - Ionizing Radiation Safety - Refresher (WHHR23) On-line module

12 July - WHS and Fieldwork Safety (WHHR30)

19 July - Chemical Safety (WHHR02) On-line module

whstraining@anu.edu.au

RSPE VW Golf

As part of our ongoing budget savings, we will be disposing of the School Golf at the end of June. The transport options available to RSPE staff and students are available on the RSPE intranet transport webpage.

Capstone Editing's Available Scholarships and Grants

Capstone Editing small grants for women, postgraduate and undergraduate students (Many of these opportunities are closing soon!)

Please contact rspe.rm@anu.edu.au if you are interested in applying for any of the following grants.