Event Horizon

Research School of Physics
| | |
| --- | --- |
| | Weekly newsletter | vol 43 no 22 | 19–23 June 2017 |
Director's Message

Dear Colleagues,

I'd like to thank James Irwin and Adrian Sheppard for their great initiative; The ANU Physics Data Portal (https://physics.anu.edu.au/portal/). Funded by the Australian National Data Service this project collects research data and simulators across the School into a single portal so we may raise the profile of our highly cited reference datasets and simulators. The site draws together work from Nuclear Physics, Applied Maths, Plasma Research Labs and Dept Quantum Science. I know there's a stack more to tap into so please let James know and we'll steadily grow the resource. One of the key aims it to attract collaborators to this resource, as well as track hit and downloads.

This week's image above comes from A/Prof Greg Lane and shows the Gran Sasso mountains of central Italy. Those who know Greg's love for outdoors might guess why he'd take this photo, but there's a far deeper reason…. scroll down to find out.

Hope you have a warm weekend.

Best,

Tim

Emerge - STEM careers expo Event

A three-hour afternoon career exhibition with live demonstrations and presentations from the community of resident start-ups including AgTech demos, VR technology and MakerSpace to engage students from schools and universities, graduates, PhDs, post- grads and the general community.
Venue: The Atrium, Cicada Innovations, 4 Cornwallis St, Australian Technology Park

Australian–French Entrepreneurship Challenge

Congratualtions to Prithvi Reddy, Doctoral Candidate with LPC, who has been successful in the Australian-French Entrepreneurship Challenge.

In the Australian-French Entrepreneurship Challenge, participants are competing for the opportunity to travel to France for a first-hand experience of the country's innovation system. Prithvi will travel to Adelaide to compete in a challenge with up to 70 contestants in order to develop a successful idea that can win over a grand jury of expert entrepreneurs, scientists and managers.

ECI Event Tuesday 20 June

| | |
| --- | --- |
| | Hear from a panel of ANU Energy Change Institute experts and stakeholders from industry and government as they critique and shed light on what the blueprint for the future means |

ANU School Holiday Program

| | |
| --- | --- |
| | The ANU is continuing its association with Communities@work, who will run the July 2017 ANU School Holiday Program ... |

Research Skills and Training Opportunities for Students

| | |
| --- | --- |
| | Upcoming pograms from the Research Skills and Training Centre |

Upcoming innovation skills development

| | |
| --- | --- |
| | There are a range of skills development opportunities in and around ANU for those looking to develop their skills around innovation, commercialisation or entrepreneurship. |

Staff Movements

Director's Office
From today Mrs Andrea Butler will be covering the EA role for the next couple of weeks.

Electronics Materials Enginering (EME)
Prof Hoe Tan is away 17 June to 4 July. A/Prof Lan Fu will be Acting HOD in this time.

Nuclear Physics (NP)
Prof Andrew Stuchbery will be overseas 4 - 25 June 2017. Prof David Hinde will be Acting HoD in this time. Petra Rickman will be away from 19 - 30 June. Please contact Julie Arnold for NP adminsitration support eme.rspe@anu.edu.au

RSPE School Forum 27 June 2017

RSPE Health & Safety upcoming courses

21 June - Electrical Design Standards Forum (WHHR11)

28 June - Ionizing Radiation Safety - Refresher (WHHR23) On-line module

12 July - WHS and Fieldwork Safety (WHHR30)

19 July - Chemical Safety (WHHR02) On-line module

whstraining@anu.edu.au

RSPE VW Golf

As part of our ongoing budget savings, we will be disposing of the School Golf at the end of June. The transport options available to RSPE staff and students are available on the RSPE intranet transport webpage.

Capstone Editing's Available Scholarships and Grants

Capstone Editing small grants for women, postgraduate and undergraduate students (Many of these opportunities are closing soon!)

Please contact rspe.rm@anu.edu.au if you are interested in applying for any of the following grants.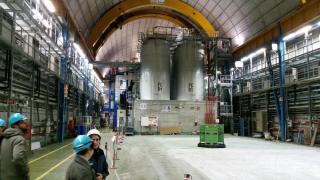 This photo shows Hall C of the Gran Sasso National Laboratory (LNGS), located 1400m below the Gran Sasso mountains of central Italy. LNGS is the largest underground laboratory in the world and Hall C is just one of the 3 main halls that are each 100m long, 20m wide and 18m high. The picture shows the location where the northern half of SABRE (our new Dark Matter detector) is presently being built. Greg took the photo showing collaborators; Chiara Vignoli (Gran Sasso), Elisabetta Barberio (Melbourne) and Tiziano Baroncelli (Melbourne). The underground lab lies halfway along a ten kilometre road tunnel that goes through the mountain range to connect eastern Italy with western Italy.
---
The Australian National University, Canberra | CRICOS Provider : 00120C | ABN : 52 234 063 906
---
If you do not wish to receive future emails from us, please unsubscribe.